However, Starlink satellite Internet service is vital to Kiev's communications, primarily to the military.
On the other hand, Russian officials say they have completed the evacuation of civilians from Kherson, on the other side of the Dnieper, ahead of an expected battle with Ukrainian forces. At least 70 thousand civilians will have crossed the river. Russian Defense Minister Sergei Shoigu announced that the partial mobilization announced in September had been completed and that the target of mobilizing 300,000 reservists had been met.
Ukrainian armed forces have attacked Ramzan Kadyrov's Chechen militia loyal to Vladimir Putin in Kherson after they were exposed in pictures posted on social media. The Ukrainians discovered that the so-called Katharovites – who had arrived in the area after the mobilization – had settled in a school. According to Ukrainians, 40 people were killed and dozens injured in this attack alone.
Also, according to the British defense minister, the Russians are using a barely mobilized reserve for defense positions on the west bank of the Dnieper.
For their part, Moscow-imposed officials in Kherson say they have completed evacuating the city ahead of an expected Ukrainian offensive – on the other side of the Dnieper.
Zelensky, reports next to a kamikaze drone
As he delivered his message tonight, Volodymyr Zelensky stood next to what appeared to be an Iranian-made Shahed kamikaze drone.
Volodymyr Zelensky: "More than 30 drones were launched (by the Russians) in two days. In total, Russia carried out 4,500 missile strikes and more than 8,000 airstrikes. But we will fight and we will bring down. We will definitely cut the wings of all metal monsters, no matter how many and from where they fly over Ukraine."
Drone strikes systematically target energy infrastructure across Ukraine
Nick Robertson, CNN Correspondent: "Sirens are on. We have reached the power station and everyone has to take shelter in the bunker. We have to go in as well. One of the drones hit a high-voltage wire and destroyed the main equipment. Here are all the burnt cables and equipment down here. This part of the plant is very sensitive," officials said. ."
Kyiv authorities are warning residents of the capital to use electricity "sparingly" as blackouts continue. They will be frequent and for a long time – announced a regional leader.
Iran-supplied kamikaze drones are also deployed by the Russians in combat on various fronts.
These Ukrainian soldiers are valiantly holding defensive positions in Bahmut, Donetsk region – where heavy fighting is now taking place.
Vladimir Putin continues to dismiss the idea of ​​Ukraine's sovereignty as fundamentally incompatible with serious negotiations, according to a recent analysis by the US Institute of War Research.
Vladimir Putin: "Frankly speaking, the only real, serious guarantor of Ukraine's statehood, sovereignty and territorial integrity can be Russia, which created today's Ukraine."
Vladimir Putin has no regrets
Putin has no regrets about the war he started in Ukraine, or at least he doesn't want to talk about it publicly. He, however, admitted that there were losses in the so-called special operation.
Vladimir Putin: "There are costs. Above all, it's losses associated with special military action. I always think about it. There are economic losses, but there are also huge gains. And what happens, I want to emphasize. The result is beneficial for Russia and the future of the country."
In the eyes of the Kremlin leader, Russia is clean, justice is on its side, and the West is responsible for everything – the war in Ukraine, the energy crisis and the global food crisis.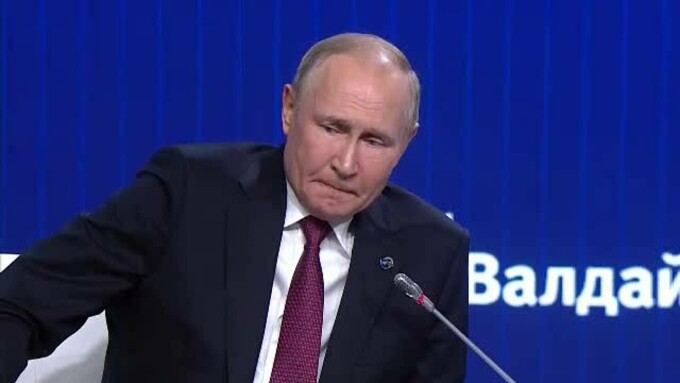 Vladimir Putin: "The main role of this West is to hold power over the world, but the game is definitely dangerous, bloody and, dare I say it, dirty. The historic period of the West's unshakeable dominance in international politics is coming to an end, and the unipolar world is becoming a thing of the past."
Putin has strongly denied that Russia might use nuclear weapons in Ukraine and condemned provocations by the West.
Vladimir Putin: "The purpose of the whole story with nuclear threats and the possibility of using a nuclear weapon (by Russia in Ukraine) is very old. There's no point in doing this. It doesn't make any sense politically or militarily."
For what he calls the West's nuclear threat, Putin pointed directly to former British Prime Minister Liz Truss, saying that in August, when Truss was foreign secretary, she suggested she was ready to push the nuclear button. Circumstances demanded.
Vladimir Putin: "The Prime Minister of Great Britain (Liz Truss) responded bluntly to a journalist: 'Yes, the United Kingdom is a nuclear power. It is the Prime Minister's duty to be able to use (nuclear weapons), and I will.' Well how? No one reacts, no. Well, let's say she has an explosion there, the woman is a bit off. But they, the Western leaders, can correct her. Washington can publicly declare, 'We have nothing to do with this.'
Source: PROTV news
Tags: war, Vladimir Putin,
Release Date: 28-10-2022 18:06
"Evil gamer. Amateur music trailblazer. Alcohol geek. Problem solver. Coffee advocate. Troublemaker. Infuriatingly humble zombieaholic."