We are in the 152nd day of the war started by Vladimir Putin in Ukraine. Exactly five o'clock Since the start of the invasion, Russian Foreign Minister Sergei Lavrov said Sunday in Cairo that, contrary to earlier reports, Russia was seeking to overthrow the Ukrainian government. On the other hand, President Volodymyr Zelensky said Ukraine would do everything possible to inflict as much damage as possible on its adversary, stressing that the Russians would also stand to lose. separated, Germany's president has declared that Russia is not satisfied with questioning borders, occupying the territories of an independent and sovereign neighboring state, but going so far as to challenge the statehood of Ukraine.
Watch live Digi24.ro text covering events in Ukraine Here.
ISW: HIMARS missile systems have devastating effect on future Russian attacks. How is the Ukrainian counteroffensive in Kherson?
Update 09.24 Estimated Sunday night through Monday morningThe Institute for the Study of War (ISW) in Washington said Ukrainian strikes damaged three Russian-held bridges leading to Kherson last week as part of a new counteroffensive by the Kiev military.
In its analysis, ISW cited Serhii Khlan, an adviser to the Kherson regional administration, who said on Sunday that Ukrainian forces were carrying out (unspecified) counteroffensive operations in the region.
Key findings of the ISW Daily Report:
Ukrainian officials have increasingly acknowledged counteroffensive operations in the Kherson region.
The Kremlin faces a growing (and still very limited) domestic opposition, who bear the brunt of the war disproportionately from ethnic minorities.
On 24 July, Russian forces attempted limited ground offensives northwest of Sloviansk, east of Chivrsk, and south of Bahmut.
Ukrainian strikes have also damaged three Russian-controlled bridges leading into the city of Kherson in the past week.
Russian forces attempted limited ground offensives in the Kherson region.
The Kremlin continues to create regional volunteer battalions and use recruitment drives by private military companies to build combat power.
Russian occupation authorities continue to create conditions for annexation referendums in the occupied territories and recruit Russian citizens for reconstruction efforts.
Read more here
About 500,000 Ukrainian children attend schools in the EU
Update 08.16 492,647 Ukrainian children were integrated into EU national school systems. As of July 19, 3.9 million Ukrainians have registered for temporary protection in the EU, according to Ukrainian publication Kyiv Independent.
Ukraine says 18 doctors have been killed, dozens injured and hundreds of medical facilities destroyed since the war began.
Update 08.00 At least 18 medical workers have been killed and nearly 900 medical facilities damaged or destroyed as a result of Russia's invasion of Ukraine, which entered its sixth month on Sunday, Ukraine's health ministry said. CNBC News notes.
[Ukraine'sMinistryofHealthsaidinaFacebookpostthatRussianattackshaveinjuredmorethan50medicalworkerssinceFebruary24whenMoscowsenttensofthousandsoftroopsintoUkraineinEurope'sbiggestwarsince1945[1945முதல்ஐரோப்பாவின்மிகப்பெரியபோரில்மாஸ்கோபல்லாயிரக்கணக்கானதுருப்புக்களைஉக்ரைனுக்குள்அனுப்பியபிப்ரவரி24முதல்ரஷ்யதாக்குதல்களால்50க்கும்மேற்பட்டமருத்துவஊழியர்கள்காயமடைந்துள்ளனர்என்றுஉக்ரைனின்சுகாதாரஅமைச்சகம்ஒருபேஸ்புக்பதிவில்தெரிவித்துள்ளது
The Kyiv ministry said 123 medical facilities in Ukraine were completely destroyed by the invasion, and another 746 were in need of repair.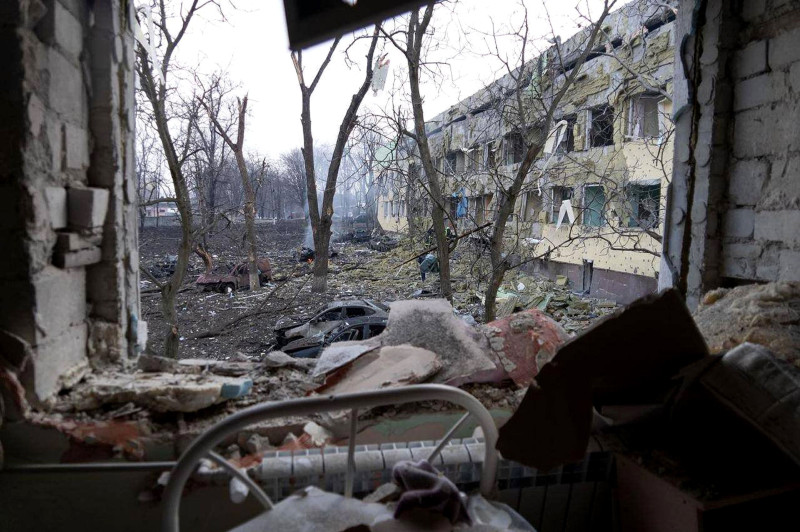 Russia has denied deliberately targeting civilians or medical workers and says it is conducting a "special military operation" in Ukraine to fight nationalists. Kiev says the Kremlin is using "terror" to intimidate Ukrainians into signing a humiliating peace deal.
Zelensky says even the Russians expect to lose
Update 07.40 Ukrainian President Volodymyr Zelenskyi addressed the nation on Sunday, exactly 5 months after the start of the war, and said that Ukraine would do everything possible to inflict as much damage as possible on its enemy.
At the same time, the leader from Kiev mentioned it "Even the aggressors agree that we will win". "We hear it all the time in their conversations. What do they say when they call their relatives?", he wanted to mention Zelensky.
Every day for the past five months, Volodymyr Zelensky said that Ukraine has not given up against the Russians. "We do everything to inflict the greatest damage on the enemy and gather as much support as possible for Ukraine.", Zelensky liked to mention.
The holiday approaches amid what the Ukrainian president has called a "brutal war" ahead of a critical week for Ukraine.
"But let's celebrate regardless. Because Ukrainians are not afraid", Zelensky also noted Ukrainian State Day is a holiday on July 28.
"After eight years of war in Donbass, despite everything that is happening, we will celebrate. Because Ukrainians cannot be divided.
Ukrainian Statehood Day will cement the connection between Ukrainians across generations. The state-building experience of Ukrainians, our culture, our identity, the Ukrainian character goes back more than a thousand years.
Now, ​​in the many achievements of our soldiers, in the wisdom of our people in battles, even in the conversations of ordinary Ukrainians about what is happening, we can see, hear and understand examples of the same characters who lived hundreds of years. . We can see examples of the same courage, the same attitude to life and, most importantly, the same attitude to Ukraine and the enemy.
Only those who do not know the truth of history and do not realize its importance can decide to attack us after all our people have been through and all we have learned over the centuries.
Ukrainians will not give up their independence and divide from within as has happened many times. Not this time! The most important task of our nation now is to maintain unity and strive for collective victory.
So we can do what previous generations could not do. This is true for our security in this battle for freedom, for our move towards a united Europe, for full membership of the European Union, and for our ability to become one of the most modern countries in the world.", the President of Ukraine also said.
The Russians again attacked the cities of Nikolaev and Kharkov
Update 07.30 Ukrinfarm reportedFirst reports of explosions mykolaiv They appeared at 02:43 am, after which air raid sirens sounded in the city and region.
At 03:07 am there were reports of explosions in the city of Kharkiv. According to local media, at least 20 explosions were heard in the city in 15 minutes until the air raid siren went off. A few explosions were heard outside the city to the southeast. According to local Telegram channels, most of the explosions took place in the city of Suhuiv in the region.
Earlier, at least two explosions were heard in the city of Dnipro during the night. Later, an explosion was heard in Nikopol as well. A local Nikopol official said the invaders bombed the coastal areas and caused no casualties or damage.
Explosions were heard all around the city Zaporozhye. Anatoly Gurdev, secretary of the city's city council, said an explosion was heard outside the city.
In the latest information on the war in Ukraine:
Russia says it was a "high-precision attack", a day after it denied the Odesa port attack.
Adviser to the President of Ukraine: Exporting grain through ports is not an easy task.
Russia: Missiles fired at Odessa port destroy ship and Harpoon missile depot.
A Ukrainian official announced that the Kherson region would be "definitely" liberated by September.
Sergey Lavrov: "Russian and Ukrainian people will live together in the future."
More than 5,000 Ukrainian women defend the country on the front lines.
Author: Marco Padea
"Evil gamer. Amateur music trailblazer. Alcohol geek. Problem solver. Coffee advocate. Troublemaker. Infuriatingly humble zombieaholic."