Ilona, ​​from the Ukrainian city of Kersan, has been occupied by the Russian military since early March, telling HotNews.ro how the lives of locals have changed over the past three months. The woman also sent us photos of the daily lives of people in the strategic port now under Russian rule.
Russian occupied city KhersonPhoto: Personal Archive
Gershon was a strategic city for Ukraine, a river and port on the Dnieper River. It was also represented for this reason One of the main targets of the Russian military It was able to occupy it relatively quickly in early March.
Before closing due to audit, Journalists of the Russian independent publication Novaya Gazeta They reported on the spot to find out why the city quickly fell into the hands of the invaders. "It's nonsense, betrayal or both," Andrei Gordiev, the former governor of the Kerson region, told Russian reporters.
That information recently The Russians imposed the ruble as the city's official currency, Next to the Ukrainian hryvnia. The whole region is expected to be annexed by Russia (Gerson is very close to Crimea).
HotNews.ro spoke to a local woman from Kherson to see how the lives of locals have changed since the occupation. The woman's name is Ilona, ​​she's 30 years old and we only release her first name to protect her identity.
"We are always here" is one of the phrases that city people often hear from the Russian military, says Ilona.
"There are a lot of Russian products in stores now in the Crimea."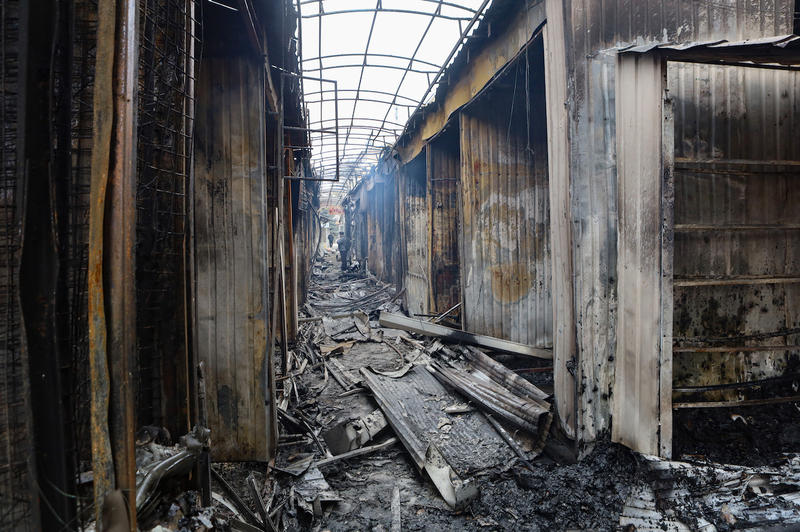 Gerson is under occupation. Photo: Ilona
How has everyday life in Kerson changed for ordinary people?
Ilona: There are a lot of changes, and it's hard to describe them all. Russian military equipment and military are everywhere. They simply walk around the city, buying goods at our markets. Some are wearing military uniforms, while others are already in civilian clothes. Military police are already operating here.
Just today a co-worker called me on the number "102" (where can I call the police) and now comes the military police, I do not know how it technically works.
The Russian army began in regional administration and occupied many buildings. In the first days of the occupation, if the products made in Ukraine were still in stores in the city, until the stock ran out, now there are a lot of Russian products brought here from the Crimea. The products from there reach our markets and shops.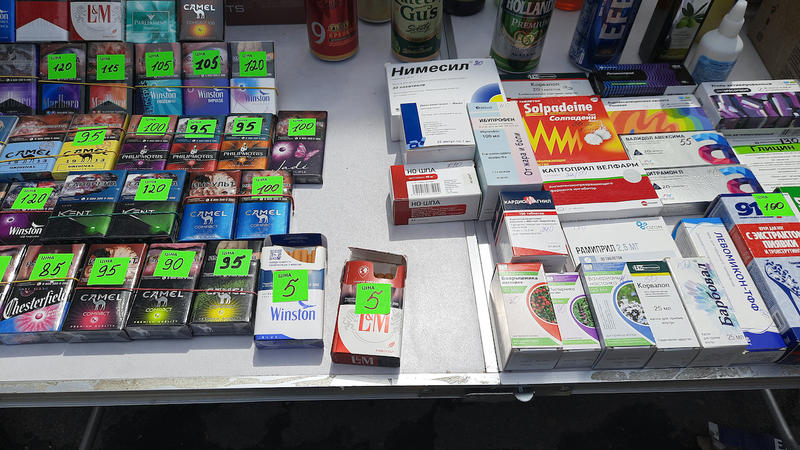 Kherson, the price of the products is still in the hryvnia. Photo: Ilona
Are you now paying in Ukrainian hryvnia or Russian rubles?
We use hryvnia. The video points (no. By the Russians) were filmed here as if we were starting to pay in Russian rubles everywhere, but this is not true. Russian soldiers came and asked how much a particular item cost, how many rubles, and told them to go and change the money.
These days, the so-called mayor appointed by the occupiers has signed a decision that everything in the territory of the city can be bought and sold only in Russian rubles, but for now this has not happened.
At least I'm talking about the city, in terms of the region – it's worse there. In exchange for providing personal data, rubles were given to local people there in the form of humanitarian aid. This was also arranged in an administrative building in Gerson.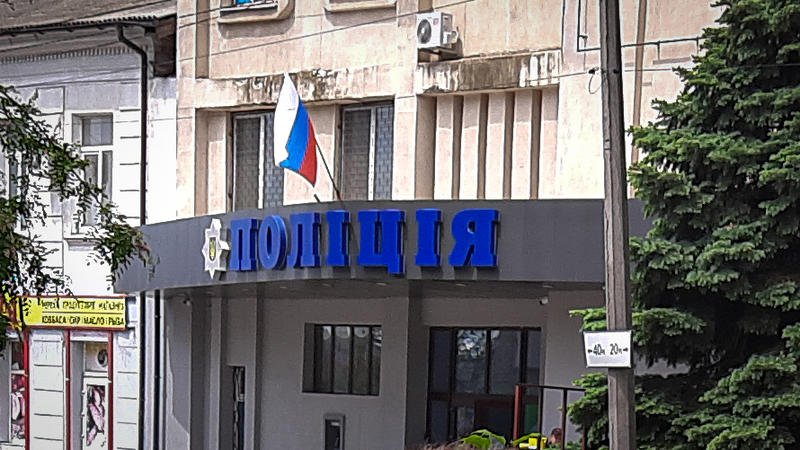 Russian flag on Kherson police building. Photo: Ilona
How did the actual seizure of power in the city by Russian military forces from the proper local administration take place?
It was a very long process. The Ukrainian flag was on the city administration building for two months. We have been in business for three months. One evening, the Russians entered the town hall building and told everyone to leave. Our flags were taken out of everything. But, as far as I know, they still do not work in the city administration building.
Their leadership is elsewhere. As far as I know, our mayor is going around the city and no one is doing anything to him. In fact, he also manages the city's communal services. Our officers do not cooperate with the occupiers and continue to perform their duties. The invaders are trying to create an image as if it were working. I invite journalists to film everything.
Also, the city administration website is maintained by our officials who keep us informed about what is going on in the city. So, the social sector, the payments, the transport, the communal services – all of these are managed by the legal authorities and not subordinated to the occupying authorities.
"When the Russians celebrated Victory Day here, the locals came out too. A small number, but they came out."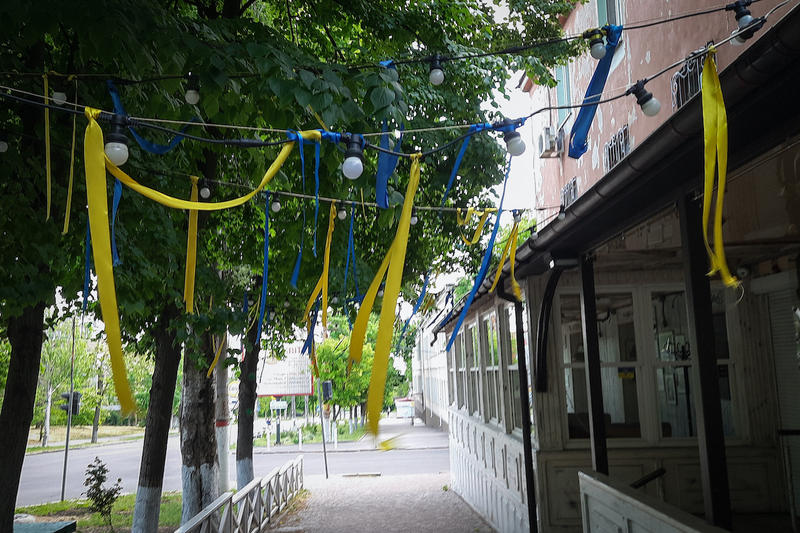 National colors of Ukraine. Photo: Ilona
How do city dwellers feel about this situation? At the very least, from your observations, how is the city divided between those who support the regime established by the Russian military and those who disagree with what is happening? What will those who disagree do?
We have long believed that no one agreed (not with the Russians) as many went to rallies from the first days against the occupation. If you get on the bus, "When will they (Russian soldiers) go home?" No one here accepts them. "
But when May 9th arrived, the invaders organized a small celebration in Gerson, a parade, and put up "Victory Day" signs everywhere.
However, many Kherson residents came out on this "vacation". Not many, but they came out. There were several dozen people, however precisely those who were called there were deliberately organized. This is because some people have wondered how to get to Svorov Street (the place where the march took place), although everyone who lives here (not in Kerson) knows this.
Also, our mayor said that 40% or almost 50% of the city's population has left. Those who stayed, those who could not leave for personal reasons, were not happy with the arrival of the Russians.
I can also say that we have a small number of people, we can call them partisans, they paint the Ukrainian flag on the wall or asphalt or leave messages on A4 sheets for residents to leave. Thus expressing their differences of opinion on what is going on in the city.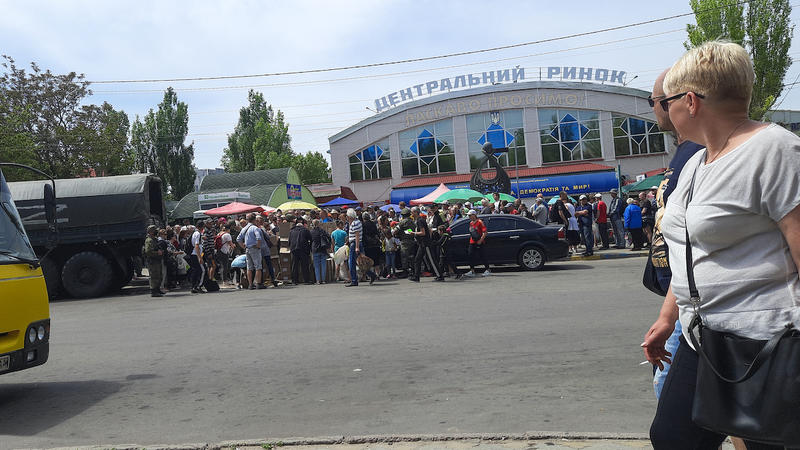 Russian natives and soldiers in Gershon. Photo: Ilona
How does the Russian military react to such actions and what happens to those who carry them out?
They are hidden and I think no one can find them. But there are some videos that show that these parties are really young women. I do it because no one should think it's about them.
Of all the checkpoints, the most complete tests are usually performed on men. So far no one was able to send in the perfect solution, which is not strange. In our city, after 15.00-16.00, practically no one goes out on the street. Although the martial time is from 20.00 and the Russians come and say it is from 22.00 to 05.00 in the morning, practically no one listens to them. Thus, in the second half of the day the city was almost deserted.
"If someone speaks Ukrainian to the residents, they will reply, 'Speak in clear language.'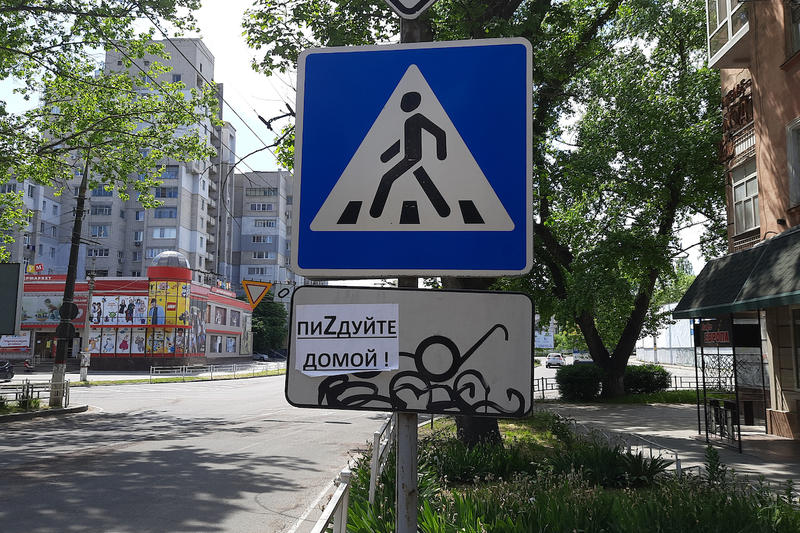 Message to the Russian occupiers: "Go home!" Photo: Ilona
Is there a language problem in Kerson now or not? How do Ukrainian speakers feel?
Our people speak Ukrainian. For example, in all stores, by law, sellers speak Ukrainian and shopkeepers speak Ukrainian. This is a trivial matter. We live in Ukraine. When someone speaks to Ukrainian residents, they respond: "Speak clear language." only that.
How does the Russian military generally treat local people in Gershon?
Different. From what I have seen and what I know, it all depends on who stopped you, i.e., it's about the human factor. In our city there are checkpoints where buses and private cars are parked during the day.
Some players allow it to pass, while others are looking for reasons to check further, and they may ask people to undress. It mainly refers to men who get tattoos with the Ukrainian state identity. I can speak badly. They behave very differently.
During the first week of the occupation, they were very active and went to many addresses looking for people working in the Ukrainian army or the Ukrainian security service. Many players have tattoos.
From our experience – once my husband looked around the area, at one point a yellow-blue ribbon fell from his pocket (colors of the Ukrainian flag – no.). The Russian army began to mock him, insult him with jokes, and laugh.
In the city they behave much better through the villages, than the region. Here they say to all, that is, to those who communicate with them, that they are always here, and that they have set us free.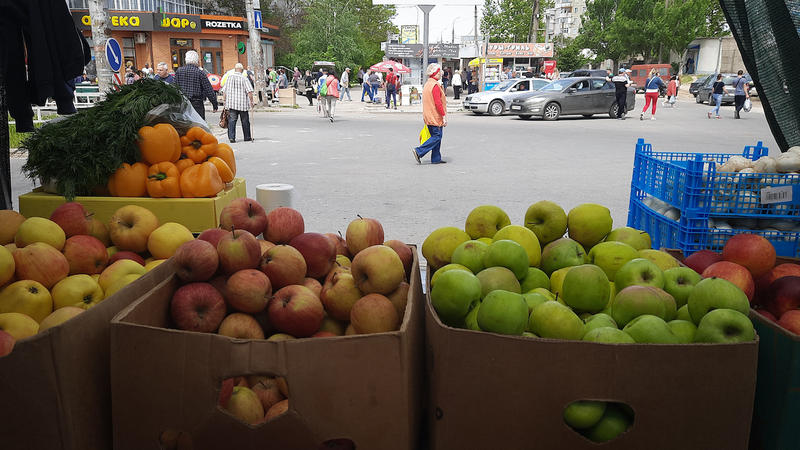 Gerson is under occupation. Photo: Ilona
Don't think of leaving town?
We thought. I think it would be right for practically every family to "go or not" this discussion every day. The problem is that there is no safe way. It was easy, now it is more complicated. There were still a few cases when the Russians drove them out, and then they opened fire on the columns of cars.
If people are lucky and not injured, they can not go anywhere without personal belongings and cars. Is pathetic. And those who do not have a personal car have to pay about a thousand dollars to those who agree to provide transportation. There are no humanitarian routes.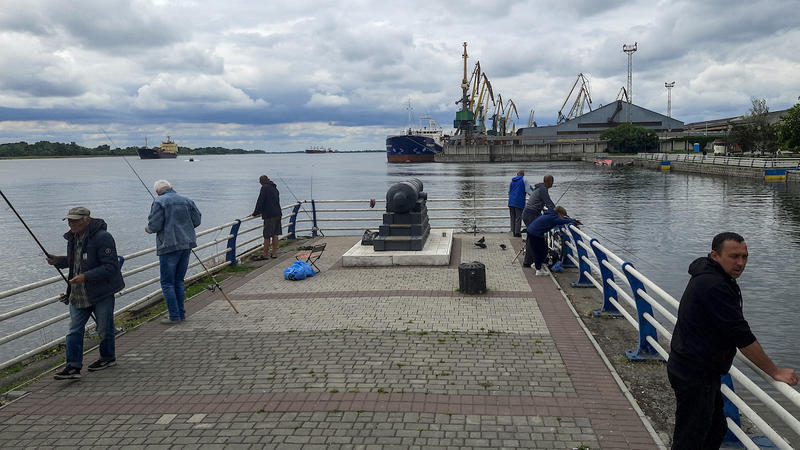 Gerson Port. Photo: Ilona
How do you see the future of your city? How long will this rule in Gershon last?
We are very much waiting for the Ukrainian troops to expel the Russian soldiers from here. Every day, not in our city, but around it, the battlefield is 15-20 kilometers away, and you can hear the sounds of explosions day and night. An explosion was heard loudly on Tuesday, causing the phone connection to disappear from time to time.
Now we live as if time has stood still. No one and nothing is created anymore. They think every day about how to survive. There are issues with the products, which is very complicated, there are queues everywhere.
I can not imagine a future with Russia. Many Gerson residents do just that. We are very much waiting for the Ukrainian troops. We hope the city will suffer as little as possible because I understand that there will be wars anyway.
"Evil gamer. Amateur music trailblazer. Alcohol geek. Problem solver. Coffee advocate. Troublemaker. Infuriatingly humble zombieaholic."