The unity of Europeans in the war in Ukraine may be affected, as public attention shifts from the front line to concerns about the cost of living. Defender.
A Recent study Suggests a new divide among European citizens – between those who want a quick end to the conflict, in situations where their quality of life will be affected, and those who want to see Russia punished.
Surveys conducted in nine EU member states of Finland, France, Germany, Italy, Poland, Portugal, Romania, Spain and Sweden and the United Kingdom – support for Ukraine is high, but war concerns are beginning to change. People are now more interested in the broader consequences of conflict.
Mark Leonard, one of the co-authors of the European Relations Council report, said, "Europeans have surprised Putin – and themselves – by their solidarity so far, but the greatest stress will ever come."
The expert also said that the ability of governments to retain greater popular support for harmful actions was important, and warned that the split between the peace search and the "justice" camp would be particularly detrimental to European communities.
Despite widespread support among European citizens for Ukraine's accession to the European Union and Western policies to sever ties with Russia, many in Europe want the war in Ukraine to end soon. Means that Ukraine loses territory.
The authors say this perspective is not reflected in government policies either, they warn European leaders not to take "maximum positions" in the war and to be tough on Russia, but to be wary of the dangers of expansion.
The war in Ukraine divided the Europeans into three camps
A poll conducted between April 28 and May 11 found that Europeans overwhelmingly support Ukraine – 73% of those surveyed in 10 countries blame Russia for the war.
In Poland, Sweden, the United Kingdom (83%) and Finland (90%) more than 80% say Russia is to blame, while in countries such as Italy (56%), France (62%) and Germany (66%) the majority support it.
There is also widespread support for severing ties with Russia. A majority of 10 countries say their governments should sever economic, cultural and diplomatic ties with Russia.
Similarly, 58% of citizens in all 10 countries and 77% in Finland want the EU to reduce its dependence on Russian energy imports, suggesting support for new round of sanctions against Russia. .
However, the data show a definite divide between Europeans who want peace as soon as possible (35% of all countries) and those who want justice – defined as restoring Ukraine's regional integrity and holding Russia accountable.
The third group of people share the anti-Russian sentiment of supporters of Ukraine's unity, as well as the fear that the peace-seeking camp will increase at any cost. This group is about 20%.
The peace-loving camp, whose supporters say Ukraine will be in a worse situation after the war than Russia, is the largest in Italy (52%), while Poland has the largest support for Russia's punishment (41%).
When asked what worries them most about the war, citizens in Germany, Italy and France responded to the cost of living and energy prices, while those in Sweden, the United Kingdom and Poland were more concerned about the possibility of a nuclear war.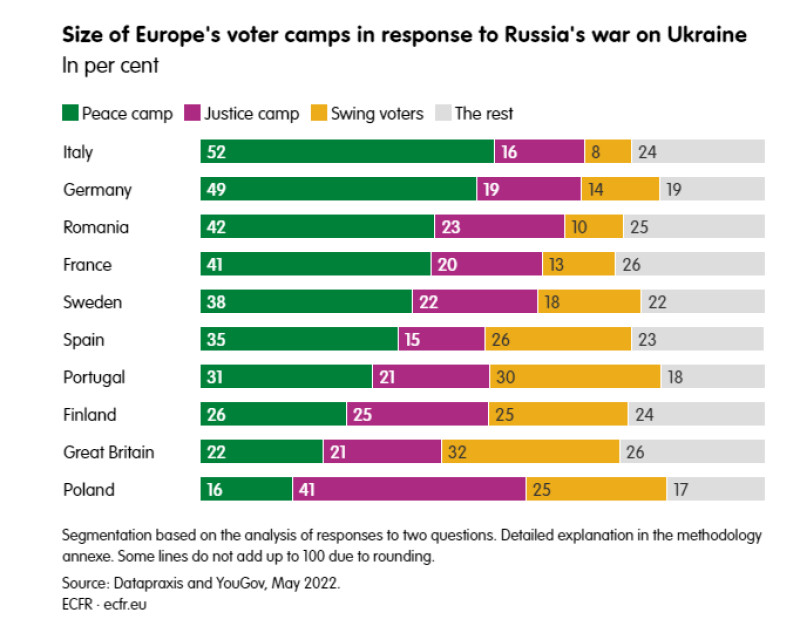 Author: Adrian Dumitru
"Evil gamer. Amateur music trailblazer. Alcohol geek. Problem solver. Coffee advocate. Troublemaker. Infuriatingly humble zombieaholic."