An energy war between Russia and the West has suddenly erupted, threatening an all-out power struggle in which the West seeks to control the price of Russian oil and the Kremlin cuts gas supplies to Europe.
Putin Expands Ukraine's Hybrid War With Power Struggle with Europe Photo Shutterstock
The unpredictable dispute, in which both sides are deploying unconventional weapons of economic warfare, shows the extent to which Russia's hybrid war in Ukraine has extended into new terrain. President Vladimir Putin is testing Europe's true willingness to see the lights out to protect Ukraine's sovereignty, writes The Guardian.
Gazprom, the state-owned company that owns Russia's gas monopoly, announced Friday afternoon that during a routine maintenance check, an oil leak was discovered in the main gas turbines in compressors on the Nord Stream 1 gas pipeline, which routes gas from Siberia. Northern Germany via the Baltic Sea. Gazprom said repairs would take indefinitely, after countless other unusually long maintenance outages.
Russia's announcement – seen as an open threat in the West – came hours after G7 finance ministers presented a comprehensive plan, first put forward by the US, to curb the price of Russian oil at the G7 leaders' summit in June. The aim is to introduce the cap in early December, depriving Putin of the resources he needs to finance the war over the winter. So far, Gazprom has not been affected by falling gas demand from Europe, which is offsetting rising global energy prices.
The message from the G7 finance ministers' announcement was that the US managed to convince previously skeptical Germany to seriously consider the plan.
As the G7 leaders' meeting ends in June, senior US officials are in London to discuss how the idea might work. London, the center of the marine insurance industry, is vital to this project. Essentially, shipping insurers must not insure any oil tanker that wishes to sell oil above the price ceiling set by the G7.
A bold piece of market intervention, the plan also has several weaknesses. Insurers claim that they do not know the price of oil sold by the insured vessel.
For the plan to work, neutral oil-importing countries like India must participate, otherwise Russia will find new markets for its oil. Greece's shipbuilding industry could be particularly affected.
Despite work at the G7, no target price has been agreed and the buzz in the insurance sector in London is not encouraging. But the plan now has the enthusiastic support of Britain and, more importantly, US Treasury Secretary Janet Yellen. But this remains a long-term project.
Putin already has powerful destructive levers at his disposal
By contrast, Putin already has powerful levers of destruction at his disposal. He has reduced normal supply on Nord Stream 1 to just 20 percent, contributing to a large increase in gas prices. The question is whether it wants to continue playing games with Europe, occasionally threatening to cut supplies, or whether it wants to go for the jugular by cutting off gas supplies altogether.
Russia's powerful gas oligarchs risk backing down if they see him as a threat to their industry. There is an argument to be made that if they intend to seriously damage German industry, they should strike now.
Germany is in its efforts to replenish 80% of the stockpile, the table says. But German businessmen and politicians warned that the shutdowns could lead to blackouts and mass redundancies.
For months there has been little doubt within the EU that Putin is manipulating gas supplies, just as many countries have warned Germany that Putin would do if Berlin relied on cheap Russian gas.
The European Commission has accused Russian giant Gazprom of using false pretenses to halt gas supplies from the Baltic Sea to Germany via the Nord Stream pipeline.
"Gazprom's announcement this afternoon that it (Nord Stream) is shutting down again under false pretenses further confirms its credibility as a supplier.", a spokesperson for the European Commission wrote on Twitter on Friday evening.
"This is a testament to Russia's cynical nature, as it prefers to blow gas instead of honoring agreements.", the quoted source said.
According to turbine manufacturer Siemens Energy, the oil spill does not technically justify the shutdown of the Nord Stream gas pipeline, which Gazprom decided after discovering such leaks in one of the turbines.
Germany indicated on Friday that gas supplies were secure despite Russian giant Gazprom's decision to extend the Nord Stream gas pipeline shutdown, raising fears of gas shortages over the winter, France Presse reported.
"The situation in the gas market is tense, but security of supply is guaranteed"A spokesman for the German Economy Ministry said in a statement.
Without commenting on Gazprom's announcement, a spokesman said Germany "He had already seen Russia's credibility in recent weeks."
A spokesman for the European Commission, Eric Mamar, said: "Gazprom's announcement this afternoon to shut down Nord Stream 1 again under false pretenses is another blow to its credibility as a supplier.".
He added: "This is a testament to Russia's cynicism."
But Russia, accused of countless war crimes on the battlefield and its frayed economic ties with Germany, does not cry foul over such accusations.
Energy war: West controls Russia's oil prices, Moscow closes gas pipelines
Rich nations agreed to cap the global price of Russian oil on Friday, while Russia delayed reopening its main gas pipeline to Germany, raising the stakes for both sides in the energy war between Moscow. and west over Ukraine.
Russia's state-controlled energy company Gazprom blamed a technical glitch on the Nord Stream 1 pipeline, but high-level maneuvers in energy policy underscored the wider impact of the conflict beyond Ukraine's borders.
The announcements came as Moscow and Kiev blamed their actions on the Russian-controlled Zaporizhzhia nuclear power plant, one of the war's most dangerous front lines. There, UN inspectors were working to avert a disaster a day earlier.
Gazprom said it could no longer provide a deadline for resuming pipeline supplies, an announcement that deepens Europe's difficulties in securing fuel for the winter as it faces an energy-driven rise in the cost of living.
Nord Stream 1, which runs under the Baltic Sea to supply Germany and other countries, resumed operations at 0100 GMT on Saturday after a three-day shutdown for maintenance.
Moscow has blamed sanctions imposed by the West after Russia's invasion of Ukraine for preventing normal operations and maintenance of Nord Stream 1. Brussels and Washington accuse Russia of using gas as an economic weapon.
The US said it was working with Europe to ensure it had enough supplies for the winter.
Earlier on Friday, the finance ministers of seven rich democracies — Britain, Canada, France, Germany, Italy, Japan and the United States — called for a Russian oil price cap.Reduces … Russia's ability to finance its war of aggression while limiting the impact of Russia's war on world energy pricesgrew up
The Kremlin – which calls the conflict "a special military operation" – said it would stop selling oil to any country that enforced the cap.
Nuclear fears
Six months of conflict in Ukraine have left thousands dead and cities in ruins. In recent weeks, fears of a disaster at Zaporizhia, Europe's largest nuclear power plant, have grown.
UN Inspectors from the International Atomic Energy Agency team, led by its chief Raffaele Croci, braved intense shelling to reach the site on Thursday.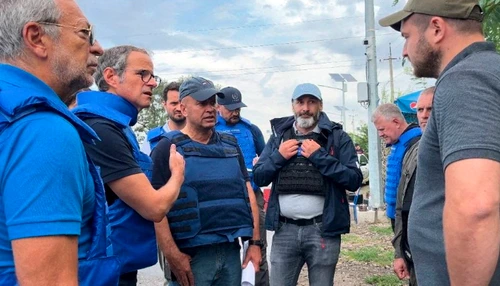 IAEA delegation photo Twitter
Krozy said that the plant's physical integrity was violated several times after returning to Ukrainian-owned territory. On Friday, he said he would prepare a report early next week and that two IAEA experts would remain at the plant for an extended period.
The site is on the southern bank of a large reservoir of the Dnipro River, about 10 km (6 mi) across the water from the Ukrainian positions.
Both sides blamed the bombing near a facility operated by Ukrainian personnel and supplying more than a fifth of Ukraine's peacetime electricity. Kiev also accuses Russia of using its weapons to defend itself, which Moscow denies. Russia has so far resisted international calls to withdraw troops from the factory and demilitarize the area.
Ukraine's state nuclear agency said Russia had barred the IAEA team from accessing the plant's crisis center, where Kiev says Russian troops are stationed, which would make it difficult to conduct an impartial assessment.
Ukrainian President Volodymyr Zelenskii urged the IAEA panel to move forward despite difficulties.
"Unfortunately, we haven't heard the main thing from the IAEA, which is the call to demilitarize Russia's station.Zelensky said in a video broadcast on a forum in Italy.
Russian Defense Minister Sergei Shoigu said Ukraine continues to use its Western allies' weapons to bomb the plant, increasing the risk of a nuclear disaster. He rejected claims by Kiev and the West that Russia had stationed heavy weapons at the plant.
Several towns near the plant were bombed by Russia on Thursday, Zaporozhye Regional Council Mayor Mikola Lukasuk said. Reuters could not independently confirm this.
A nuclear reactor at the site was reconnected to Ukraine's grid on Friday, Energoatom said, a day after it was shut down due to shelling near the site.
Counter attack
Ukraine launched an offensive this week to retake territory in southern Ukraine, mainly below the Dnipro in neighboring Kherson province.
Both sides claimed battlefield victories in the early days of what Ukrainians see as a potential turning point in the war, though details have been scarce so far, with Ukrainian officials releasing little information.
Natalia Humenyuk, spokeswoman for the Ukrainian Southern Command, said on Friday that Ukrainian troops destroyed ammunition depots and pontoon bridges to prevent the movement of Russian reserves.
"Our successes are solid and we will be able to release more information soon."she said.
Moscow denied reports of Ukrainian advances and said its troops had defeated Ukrainian forces.
Reuters could not independently verify these claims.
Ukraine's civil service said on Friday that Russian forces had bombed dozens of towns and cities, including Kharkiv, Ukraine's second-largest city.
"Evil gamer. Amateur music trailblazer. Alcohol geek. Problem solver. Coffee advocate. Troublemaker. Infuriatingly humble zombieaholic."