Romania tops the list of states with the highest number of road accidents, with more than 76 accidents per day last year (28,000 per year), with 4 Romanians dying daily as a result, according to data from the National Institute of Statistics. , consulted by HotNews .US
Car accidentPhoto: LCVA / Dreamstime.com
At the European level, Safer roads Sweden has the highest rates (18 deaths per million population), while Romania (93/million) recorded the highest rate in 2021, the year we aggregated the figures at the EU level. The death toll in Romania is twice the European average (EU average 44 road deaths per million inhabitants).
Based on Eurostat statistics, apart from Sweden, 8 other member states (Denmark, Germany, Ireland, Cyprus, Lithuania, Malta, Poland, Portugal) recorded the lowest number of deaths due to accidents.
At EU level, more than half of road deaths occurred on rural roads, compared to 40% in urban areas and 8% on motorways. Car drivers (drivers and passengers) account for 43% of all road deaths, while pedestrians account for 20%, two-wheeler users (motorcycles and mopeds) account for 18% and cyclists account for 10% of all deaths.
In urban areas, the pattern is very different, with pedestrians (37%) representing the majority of victims.
Three in four road deaths are men (77%) and the elderly (65+) account for more than a quarter (28%) of all deaths, although disproportionately more young people are killed on the roads. Around 12% of those killed on EU roads are between the ages of 18 and 24, although this age group makes up only 7% of the EU population. Hence youths are more involved in road conflict.
How we live in Romania
District wise ranking of highest road accidents looks like below graph.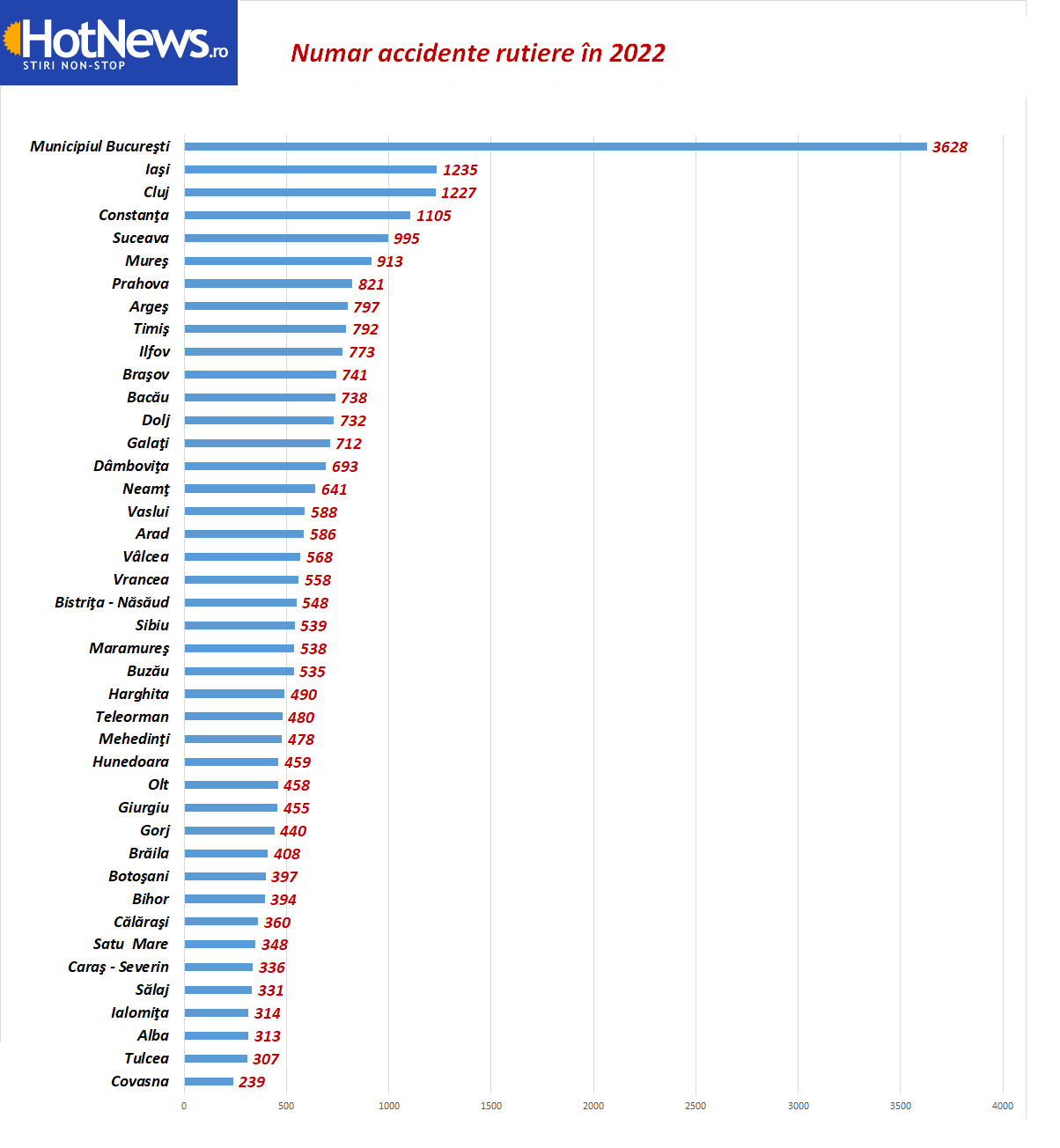 Regarding the number of deaths due to accidents, the situation has changed slightly.
In 2022, 28,010 traffic accidents resulting in physical injuries were recorded, resulting in 36,218 injuries, of which 4.5% were fatal. The INS says that in 2022, compared to 2021, the risk associated with road traffic will increase for all types of road traffic accidents causing physical injuries, depending on their nature and the manner in which they occur.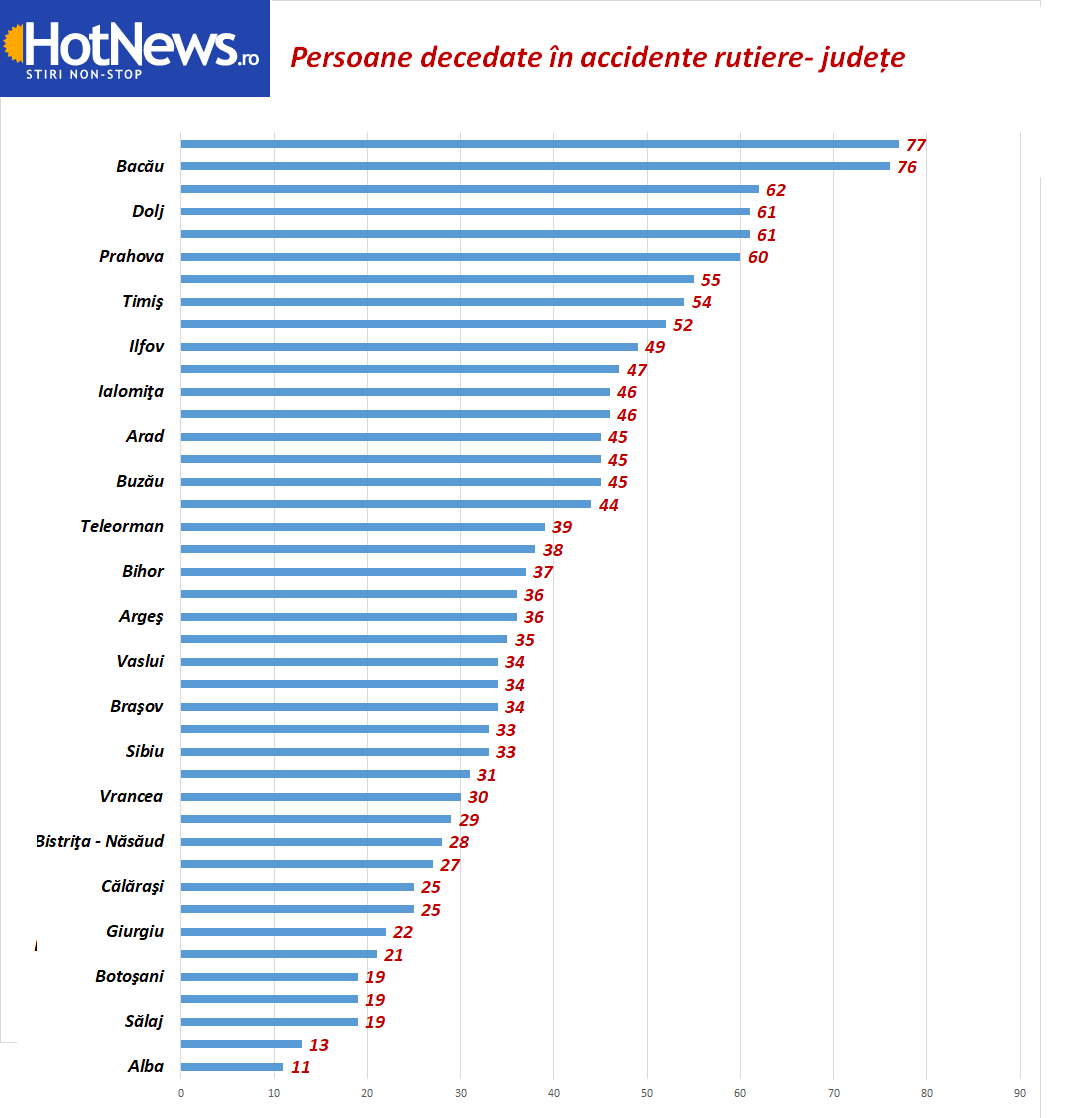 The largest increase, 10.2% respectively, was recorded in the number of accidents involving one vehicle.
The share of traffic accidents causing bodily harm in local governments (excluding highways) was 83.8% of the total number of accidents, and the share of fatalities or injured persons was 79.4% of the total number of injured.
In 2022, 3305 pedestrians and road vehicle drivers were involved in road traffic accidents causing physical injuries under the influence of alcohol, 1182, respectively 35.8%, were car drivers.
After production hours, the highest rates of accidents were recorded in August (10.3% of total accidents), July (10.2%) and June (9.9%).
According to lighting conditions, 73.0% of the total number of accidents occurred during daytime and according to road conditions, 87.0% of accidents occurred on dry roads.
See INS research on road accidents in Romania here
Photo credit: LCVA / Dreamstime.com
"Evil gamer. Amateur music trailblazer. Alcohol geek. Problem solver. Coffee advocate. Troublemaker. Infuriatingly humble zombieaholic."