White House National Security Council spokesman John Kirby on Friday accused Russia of trying to destabilize the Republic of Moldova.
Chisinau, Republic of MoldovaPhoto: Alessandro Serrano'/AGF / Sipa Press / Profimedia
While the US does not see an immediate military threat to the Republic of Moldova, the US administration believes Russia is trying to weaken the small European country, foment an insurgency and install a pro-Moscow government, Reuters reported. ro.
"We believe that Russia is trying to weaken the government of the Republic of Moldova, and of course the ultimate goal is to see an administration favorable to the country's leadership," said John Kirby, a spokesman for the National Security Council, quoted by AFP. .
The United States believes that Russia is considering several "options to weaken the Moldovan government" and prevent it from strengthening ties with Europe. Kirby said "Russian actors" in contact with Moscow's intelligence services "are trying to organize the pretext of the protests in the Republic of Moldova and use them as a basis for a fabricated rebellion against the Moldovan government," writes The Independent.
The U.S. is also seeing signs that actors linked to the Russian government may be training anti-government protesters in Moldova, Kirby said. "We've seen Russia try and fail to destabilize other European countries over the years," John Kirby continued, noting that there was such an attempt in Montenegro in 2016.
US: Activities of Russian groups are worrisome, but should not be overstated
"While the activities of Russian groups attempting to target the Republic of Moldova are worrisome, we should not overestimate their capabilities. I want to emphasize that the Moldovan government is resilient and effective in responding to these threats," said John Kirby. "We are confident in the democratic and economic institutions of the Republic of Moldova and their ability to respond to these threats," he added.
John Kirby told White House reporters on Friday that the information he shared was recently declassified by intelligence services and that the United States had provided "additional details" to Moldovan officials "so they can further investigate Russian plans to disrupt."
CNN writes that the Biden administration believes Moscow is working, including through disinformation, to destabilize Moldova. A case in point is the Russian Defense Ministry's report last month that Ukraine was planning an invasion of Moldova's separatist region of Transnistria, which is backed by Moscow. US officials said the claims were "baseless, false and create unwarranted alarm," according to CNN.
On the other hand, CNN recalls that President Maia Sandu of the Republic of Moldova publicly announced last month that the Russian government was "planning a series of violent actions involving military-trained saboteurs. Operations, attacks on government buildings and hostage taking".
Washington will help the Moldovan government
Kirby said the U.S. will "continue to work closely" with Chisinau and "continue to shed light on the identity and activities of these Russian actors, including imposing sanctions involving nine individuals and 12 entities." Destabilization of the Republic of Moldova, including oligarchs widely recognized for subverting Moldovan state institutions". (Two of them fugitives Vlad Plahotniuc and Ilan Şor, the latter organized anti-government protests in the Republic of Moldova through his agents – no)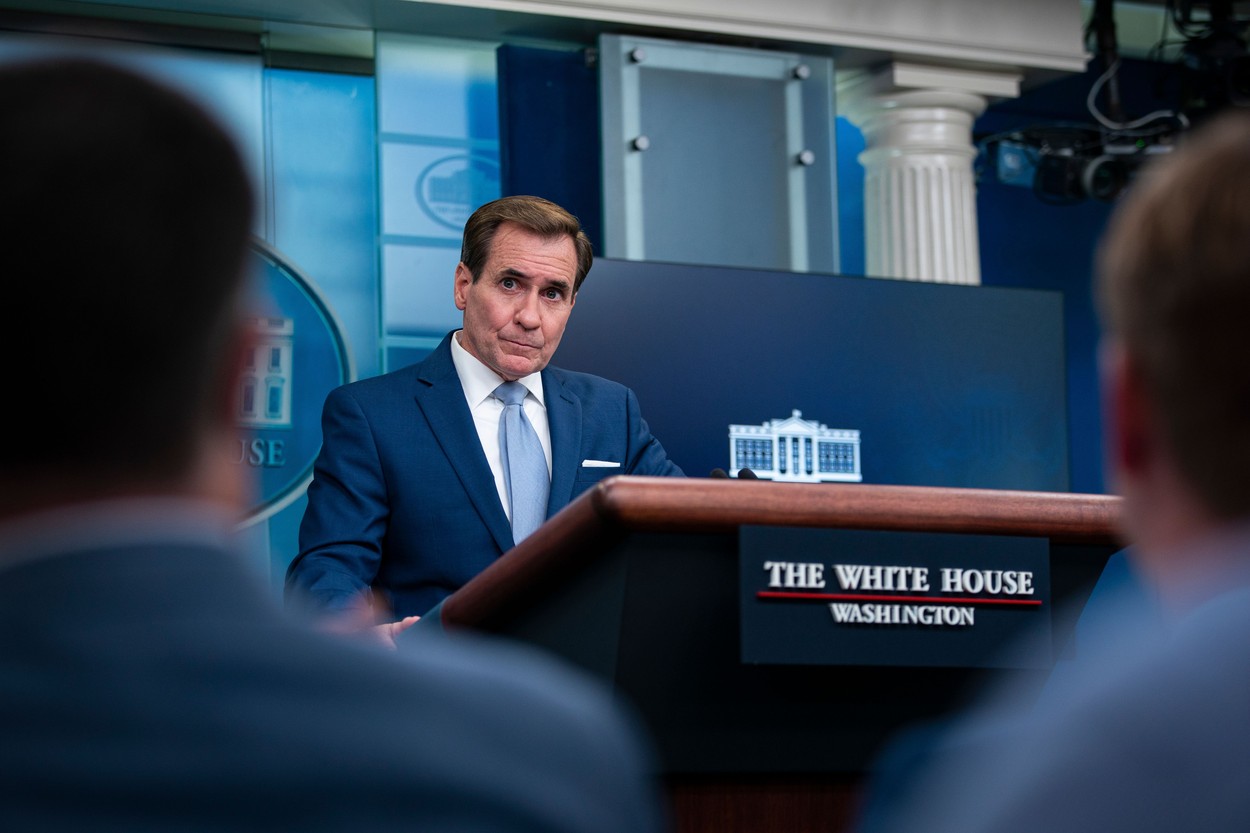 John Kirby (Photo: Shutterstock Editorial / Profimedia)
"We will continue to support the people and government of the Republic of Moldova, who are enduring the consequences of Russia's brutal war in Ukraine, while striving for better integration in Europe," he said. "The United States strongly supports the Republic of Moldova's political, economic and anti-corruption reforms and deepening their European integration. Moldova and its people have clearly demonstrated that they want to look toward a bright future. And we want to see this future even brighter. We will be with Moldova every step of the way," said John Kirby.
In this case, Kirby announced that the Biden administration would provide energy assistance worth $300 million to Moldova and exchange information with this country.
The Biden administration sees no immediate military threat to the Republic of Moldova
However, the Biden administration sees no immediate military threat to Moldova, US officials cited by CNN said. US services are closely monitoring Russia's activities in the Republic of Moldova, concerned about Moscow's continued efforts to destabilize Europe. President Joe Biden met Mia Sandu in Warsaw last month, where they discussed Russia's malign influence measures, CNN writes.
Also, US Secretary of State Anthony Blinken met Mia Sandu at the Munich Security Conference in mid-February and expressed "deep concern" about Russia's efforts to destabilize the Moldovan government.
"We are committed to the security of the Republic of Moldova, its independence, its territorial integrity, and the support of the most important reform initiatives undertaken by the President and the Government," Blinken declared. "At the same time, we are deeply concerned about some plot from Russia to destabilize the government, but of course, we appreciate the good efforts that Moldova is making. Protect itself from this matter," Blinken said.
Just as the U.S. continues to declassify information about Russia's intentions in Ukraine and expose its plans, the U.S. is now declassifying all of this information in an effort to prevent Russia from advancing its plans, U.S. officials told CNN.
___
"Evil gamer. Amateur music trailblazer. Alcohol geek. Problem solver. Coffee advocate. Troublemaker. Infuriatingly humble zombieaholic."