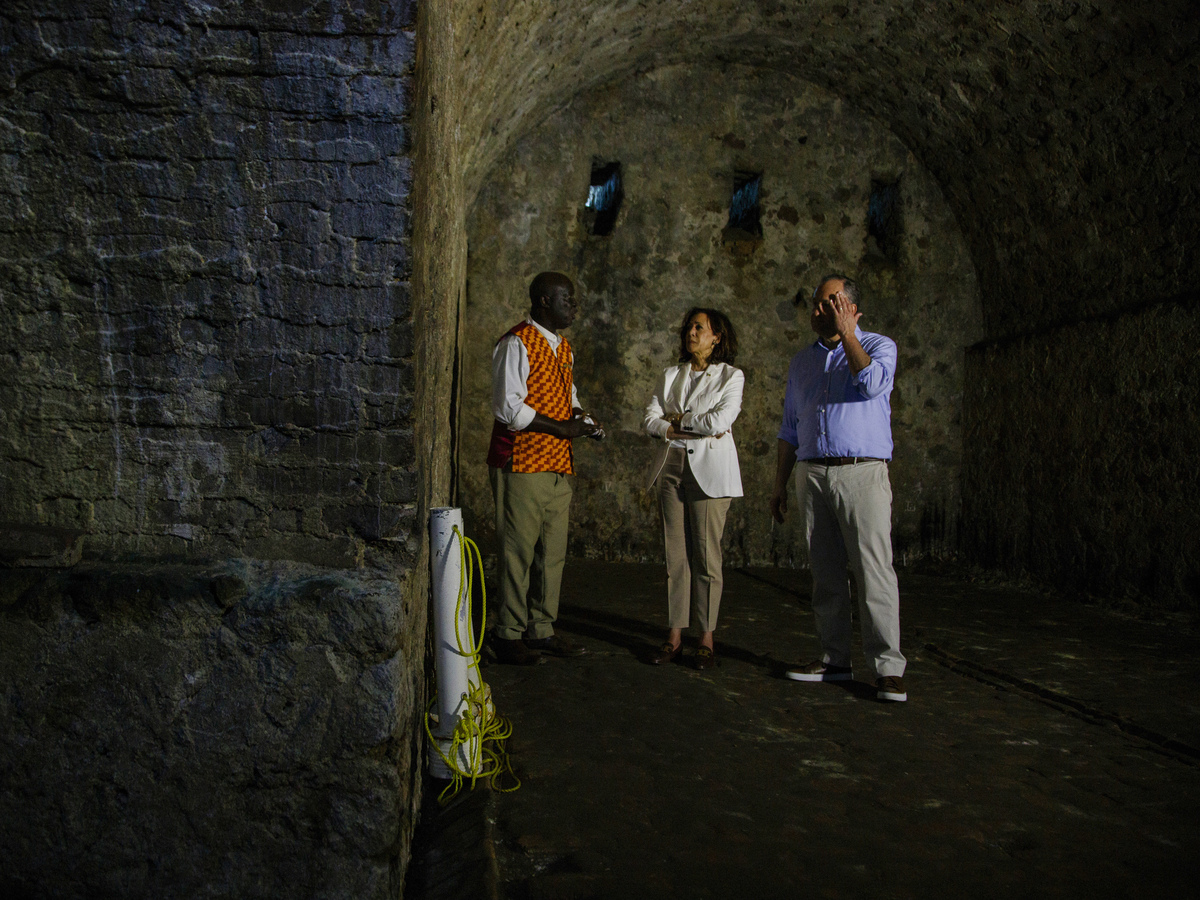 Vice President Harris wiped away tears as she toured the dungeons of Ghana's Cape Coast slave castle on Tuesday, and said the experience confirmed that the history of slaves should be studied and remembered.
Harris and second-in-command Doug Emhoff spent about an hour at the site, passing through the door of no return, known as the last step before those kidnapped were forced onto ships to ferry them across the Atlantic.
"We must always remember the horror of what happened here. It cannot be denied. It must be taught. History must be learned," she said, walking away from her speech prepared to emphasize the cause.
"We must then be guided by what we know is the history of those who survived," she said. "They tell another history — a history of possibility, a history of belief, a history of believing what is possible," she said.
Harris' comments come after an uproar over Florida's Republican governor Ron DeSantis' decision to ban a new high school advanced placement course on black history. DeSantis is expected to run for his party in the 2024 presidential race.
Niphah Dennis/AFP via Getty Images
Harris, the highest ranking Biden administration official to visit Africa, will visit Tanzania and Zambia during her week-long trip. Biden is expected to visit the continent later this year.
Kwesi Blankson guided Harris and Emhoff on their tour. He told reporters it was a solemn moment.
"I told her about dungeons and women in particular, and how they were kept in dungeons and how they looked through holes to the God of Heaven for salvation and how some of them sang," Blankson said, adding that he sang one. One of Harris' songs was about life's problems.
The Vice President said she planned to take the pain and anguish from Cape Coast Castle with her, and use them to fight for freedom and justice. She noted that the descendants of slaves continued to fight for civil rights in the United States and throughout the world.
"The descendants of the people who walked through that door were strong people, proud people, people of deep faith who loved their families, their traditions and their culture," Harris said. "We have all benefited, no matter what your background, from their struggle and their fight for freedom and justice."
"Alcohol geek. Certified web scholar. Travel aficionado. Subtly charming twitter fanatic."