Wallet and Health apps are rumored to be getting updates in iOS 17 Ha-ha-ha-ha-ha-ha Today we shared some mockups that purport to represent the design changes we can expect to see.

In the Portfolio application formThere is a navigation bar at the bottom that separates the different functions available in the app. Cards, Cash, Keys, IDs, and Requests are categories listed. Note that this is a mockup, so spelling "ID" is likely an oversight. There's also a "Passes & More" tab, and the leaker claims that other features are coming as well.
Users will reportedly be able to scroll down to a search interface to find a specific card or cards, and there's a "Transactions" button. Compared to the existing Wallet app design, this will be a functional improvement as it will make finding certain features such as specific passes and order details simpler. It wouldn't be surprising to see a design like this given the many functions the Wallet app now offers in addition to storing credit and debit cards.
For the Health app, It's called Analyst941 The Favorites section under Summary will see a redesign with a card-style interface. Each card will contain "data visualization" that includes "color graphs," "tables," and other information. Since the Summary tab in the Health app also includes directions and features, it's not clear how the card design for Favorites will work with these sections.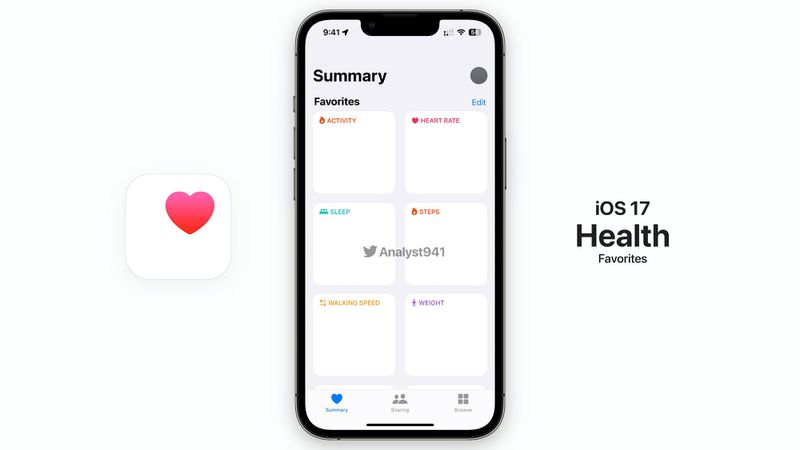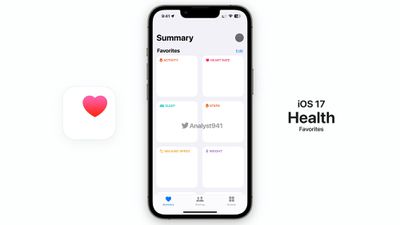 Analyst941 leaked accurate information about the iPhone 14 Pro's Dynamic Island before its launch last year, but this leaker doesn't have a long-term track record yet and the shared information should be viewed with some suspicion in that light.
Analyst941 has shared a number of rumors about upcoming features in ‌iOS 17‌ in recent weeks, suggesting that a "special" version of ‌iOS 17‌ is in the works for the 14.1-inch iPad and that iPads will get iPhone-style lock screen customization, plus they've mentioned changes Mystery is coming to research, "dynamic island", control center and more. They also made claims about a new home screen design for watchOS 10 and said that in the future, the Apple Watch will be able to pair with multiple devices, including the iPad and Mac.
It is worth noting bloombergMark Gorman has expressed doubt About Analyst941's claims Some information is believed to be inaccurate. We'll know more about Analyst941's accuracy in just over a month when Apple unveils ‌iOS 17‌, watchOS 10, and other updates at its June 5 WWDC.
Regardless of whether these mockups are accurate, there are other credible rumors suggesting updates to the Health and Wallet apps. On the Mac rumors podcast, Gurman confirmed that Apple is working on updates to the Wallet app, and also recently said that Apple is working on new features for the Health app like expansion to the ‌iPad‌ and a mood tracking feature.
"Friendly food geek. Communicator. Hipster-friendly creator. Bacon evangelist. Zombie nerd. Pop culture advocate. Beer aficionado."