A top US general said Ukraine's latest counteroffensive was "slower than expected" but was still making progress, Sky News reported.
General Mark MilleyPhoto: Kevin Dietsch/Getty Images/Profimedia Images
Speaking at the National Press Club, General Mark Milley said: "We don't have time to discuss this: it (the Ukrainian counteroffensive) is moving slower than people predicted, but it doesn't surprise me."
"He has cut his way through the most difficult minefields and is making deliberate, steady progress," he added.
Ukrainian officials broadly reported progress on all fronts
Ukrainian troops are advancing in all directions in a counter-offensive against Russian occupation forces, a senior defense official said on Friday. Reuters.
Since the counteroffensive began this month, Ukraine says it has taken control of several villages in the southeast, although Russia still holds parts of Ukrainian territory in the east, south and southeast.
"If we talk about the entire front line, in the east and in the south, we are taking the strategic initiative and advancing in all directions," Deputy Minister Hanna Maliar said on Ukrainian state television.
Zelensky calls for strengthening the front in the north of the country
Ukrainian President Volodymyr Zelensky ordered military commanders to reinforce the northern military sector after Russian mercenary group leader Wagner arrived in Belarus so he could set up a base. Reuters and Agerpres.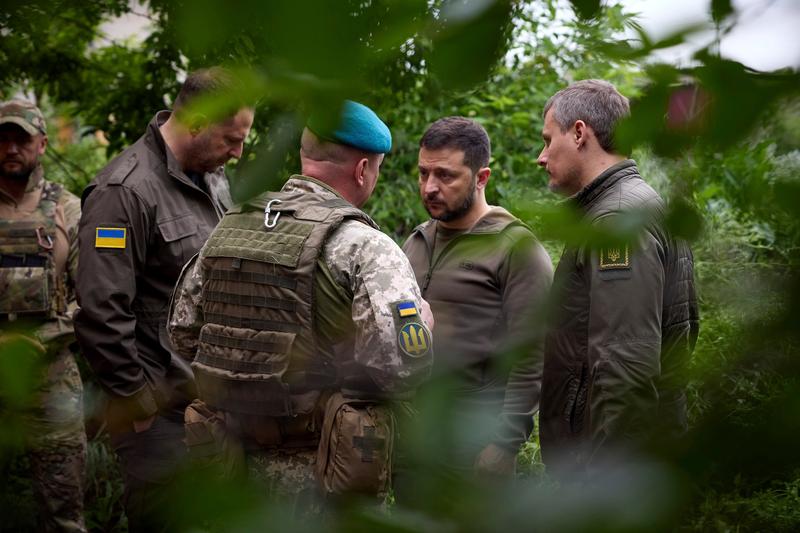 Volodymyr Zelenskiy visits the Vuhledar Front Photo: Poole / President of Ukraine / Zuma Press / Profimedia
The Chief of Staff of the Ukrainian Army, General Valery Zalujny, and the Commander of the Northern Military Department, Sergei Nayev, were given the task of implementing a series of measures to strengthen this direction, Zelensky announced in a telegram.
He noted that he had a meeting with government and military officials, where he received a report from intelligence and security forces on the situation in Belarus, a country in the north of Ukraine and at the start of the Russian invasion. , a launching pad for an offensive in Ukraine's north, an area Russian troops have since withdrawn to focus on the country's east and south.
In his announcement, Zelensky did not mention Yevgeny Prigozhin, who is in exile in Belarus after the uprising he launched last weekend to oust the Russian military leadership, whom he accused of being incompetent in the Ukraine war.
Follow the latest developments of the 492nd day of the war in Ukraine in LIVETEXT on HOTNEWS.RO.
"Evil gamer. Amateur music trailblazer. Alcohol geek. Problem solver. Coffee advocate. Troublemaker. Infuriatingly humble zombieaholic."